The experts at Frazier & Deeter offer insights regarding a variety of complex issues and technical tax topics.
Our articles, videos and podcasts help you understand critical issues that impact your company today so you can plan for tomorrow.
Need expert advice? Contact our experts today.
Featured Insights
The UK Government has announced relief measures to help both individuals and businesses impacted by COVID-19. In this podcast, Mike Whitacre interviews Jonathan Clark, a Tax Director in Frazier & Deeter's London office. Listen now for an overview of the measures and steps you or your business can take now.
Did you know you may have cash hidden in unclaimed R&D tax credits? Mike Whitacre interviews Thomas Wells, leader in our UK R&D Tax Credit practice. Thomas Wells explains the benefits of R&D tax credits and which companies may qualify.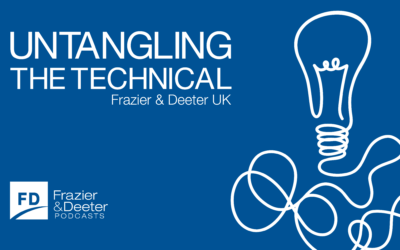 Understanding the tax implications of inter-company transactions is critically important for businesses. Mike Whitacre interviews Malcolm Joy, Frazier & Deeter's Global Transfer Pricing Practice Leader, to get a better understanding of one of the most complex...
read more